Oh my!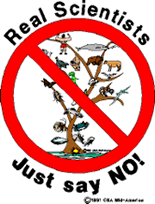 The Creation Science Association of Mid-America will be doing a safari tomorrow
:
July 16 (Saturday) - 9:00AM-4:00PM - KU Natural History Museum
Fossil hunt, picnic, and a truly rare experience... God-honoring tour of a Natural History Museum.
Maybe they'll invite me to their picnic.
I'm worried that they'd say "No" if I asked.
That's what they seem to advocate.
Technorati Tags: evolution